Client Overview
Quicket is a leading company in the IT industry that delivers self-service APIs with airlines' data and immersive media, helping travel partners offer airline services through various web and mobile platforms.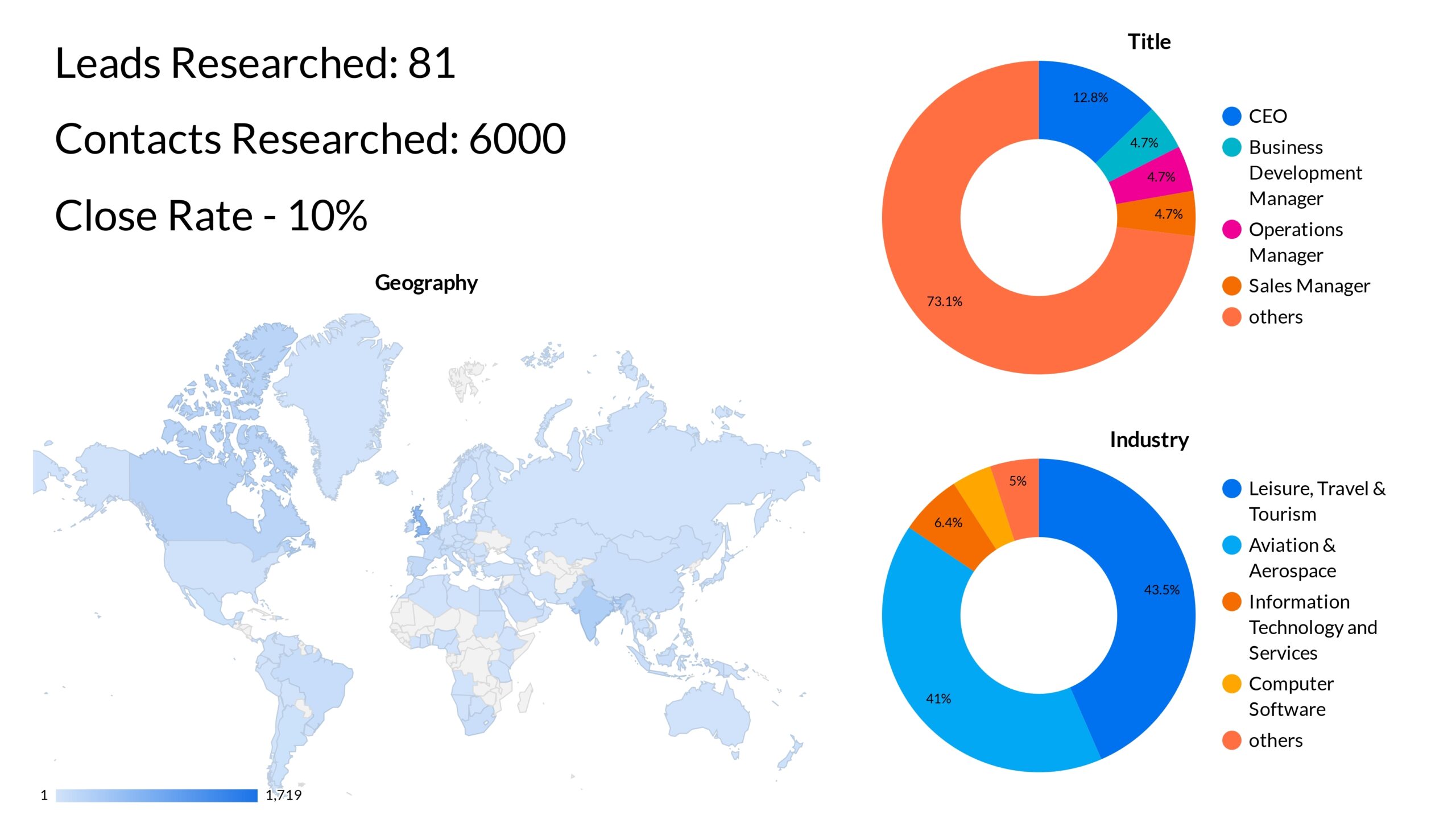 Challenges
Quicket faced several challenges in its quest to expand its market presence:
Identify travel agencies and TravelTech companies cooperating directly and indirectly with airlines to offer interactive seat maps.

Researching Online Travel Agencies (OTAs) worldwide that fit the Ideal Customer Profile (ICP).

Efficiently working with the client's CRM system.

Setting up appointments with warm leads to drive sales and business growth.
SalesAR's Approach
Leveraging their expertise and resources, SalesAR collaborated with Quicket to create a customized strategy that addressed their challenges. Using client-provided information, SalesAR successfully researched and developed a contact base that met Quicket's requirements. They ensured data accuracy by cross-referencing and updating the information in the CRM system.
Responsible team
Solutions Implemented
Targeted Lead Generation and Outreach: SalesAR prepared the first batch of carefully selected leads and crafted personalized outreach templates after discussing the project in detail with Quicket.
Strategic Appointment Setting: SalesAR's team initiated the outreach, and within a few days, several prospects expressed interest in demo calls. The team scheduled an average of 5-10 meetings each month, paving the way for Quicket to showcase its unique value proposition.
Ongoing Engagement and Nurturing: SalesAR maintained continuous engagement with new and old prospects, providing additional information and nurturing relationships to move them closer to conversion.
Results
The collaboration with SalesAR led to exceptional results for Quicket:
6,000
Contacts Reached out
81
Appointment Booked in 3 Months
10%
Closed Rate
Total Appointments: SalesAR set up 81 appointments, showcasing a solid interest in Quicket's innovative services.
Contacts Researched: SalesAR researched 6,000 contacts, effectively identifying high-quality leads for Quicket.
Impressive ROI: The partnership with SalesAR resulted in a 7x return on investment, demonstrating the value of a strategic lead generation and appointment-setting partner.
Client Testimonial
We started working with SalesAR in February 2022 and received numerous calls during the first week of the outreach. SalesAR's team is constantly in touch with us ready to help with any request, which brings positive results in the end. I like our effective cooperation and will keep working with them on other projects as well.
Conclusion
Quicket's successful partnership with SalesAR highlights the power of expert lead generation and appointment setting in driving exceptional conversion rates. By collaborating with SalesAR, Quicket significantly increased its client base, expanded its market presence in the IT industry, and unlocked new opportunities for business growth. Take the chance to learn how your business can benefit from a tailored lead generation strategy; continue reading to discover more success stories like Quicket's.